WHAT DOES PIRATED MUSIC HAVE TO DO WITH DHS? THIS IS ABOUT WEB SHUTDOWN!!

http://www.infowars.com/dhs-closing-down-web-domains-right-and-left/
MY SCRIBD DOCUMENT OF THE US CONSTITUTION HAS BEEN REMOVED TWICE NOW!! HERE IS THE LAST TIME…

AND HERE IS ANOTHER TIME WHEN I HAD TO FIGHT TO GET IT BACK UP!! AND THEY TAKE DOWN OTHER DOCUMENTS THAT ARE ASSOCIATED WITH THE FED RES BEING A PRIVATE CORPORATION!!
http://fightingforliberty.ning.com/profiles/blogs/does-anyone-know-who-recently
BACK UP AND PREPARE TO MOVE….AND RE-INITIATE!!
http://fightingforliberty.ning.com/profiles/blog/list?q=censor
I EQUATE THE INTERNET TO THE BOY SCOUTS PAPER DRIVE IN MR SMITH GOES TO WASHINGTON…..JAY IS GETTIN HIS NECK SQUEEZED!!
HIS LITTLE RFID CHIPPY THING AINT FREAKIN CUTTIN IT!! AND HE IS GONNA DANGLE!!
http://fightingforliberty.ning.com/profiles/blogs/hey-rockefeller-about-the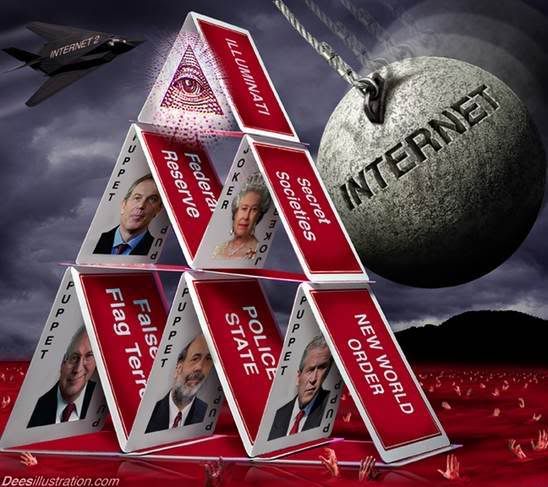 Jay Rockefeller wants to NUKE the internet
During the Commerce Secretary Confirmation Hearing on Wednesday, March 18th, 2009, Senator Jay Rockefeller, that's Jay Rockefeller of the Rockefeller/Rothschild global elite known as the New World Order, said "When the internet was invented everyone fell flat on their face they were so thrilled, and the world began to do business in a different way. Now both the President Bush's Director Intelligence, Mike McConnell who I greatly respect, and President Obama's Director of National Intelligence, Admiral Blair who I greatly respect, have labeled cyber security, perpetrated through the internet as the #1 National Hazard of attack on the homeland in West Virginia (stammers), America, anywhere else."


He continues, "So, I mean, it really almost makes you ask the question would it have been better had we not invented the internet and had to use paper and pencil whatever? And That's a stupid thing to say, but it has genuine consequence, because it's on the internet that these acts of shutting down, ya know they have television ads every day saying the DOD is attacked 3 million times a day, and it's true. Everybody is attacked, anybody can do it.
"People say it's China and Russia, but there could be some kid in Latvia doing the same thing. I mean it's individual acts. It doesn't require a sleeper cell, ammonia, explosives, it's just an act. And yet it's an act which can shut this country down, it's electricity system, banking system, shutdown about anything we have to offer. It's an awesome problem.
"On the Intelligence Committee we were taken for a full day, to an undisclosed place in Virginia, to discuss this. It is a fearsome, awesome problem. It's broader than that too. I wonder where this stands with you, what your thoughts are and what we should be doing about it." unquote
Posted by Mike Philbin at 10:03 PM
Labels: 9/11 conspiracy
Jay Rockefeller wants to NUKE the internet